Aitken Spence Cargo Wins Digitalization Transformation Award at CILT Awards
Aitken Spence Cargo (Pvt) Ltd representing Aitken Spence Freight Sector won first place under "Digitalization Transformation" category at The Chartered Institute of Logistics Sri Lanka (CILT) Awards 2022, held recently at the Kingsbury Hotel Colombo. The Chartered Institute of Logistics and Transport is a professional body representing the transport and logistics industries worldwide with over 30,000 members in across 30 countries, having granted a Royal Charter by King George V has been instrumental in shaping the Logistics and transport industry and professionals over a period of 100 plus years.
CILT Sri Lanka in its mission to recognise Supply Chain and Logistics excellence in Sri Lanka initiated the CILT Awards. The prestigious awards ceremony and the gala dinner was graced by the Deputy British High Commissioner to Sri Lanka, Ms. Lisa Whanstall who highlighted the importance of digitalization in greening supply chains and enhancing efficiency.
During the period under review, Aitken Spence Cargo implemented the "E-pouch" a digital space where shipping related documents were uploaded from multiple locations and launched the "E- Customer Portal" which provided seamless information and thereby providing an enhanced customer experience. These initiatives transformed traditional supply chains into connected, smart and agile supply chain ecosystems while resonating the Sector's credo: THINK SPEED; THINK SPENCE.
Aitken Spence Freight Sector has pioneered freight forwarding in Sri Lanka and continues to provide comprehensive end-to-end Freight Logistics solutions. Aitken Spence Cargo is certified for ISO 9001 Quality & ISO 14001 Environmental Management Systems and embraces best practices to provide a best-in-class customer experience. The company continues to introduce game changing initiatives, facilitating global trade and contributes towards the economic development of Sri Lanka. With operations spanning across multiple regions and leveraging on its solid network the freight sector lives its purpose "Connecting borders through seamless tailor-made solutions."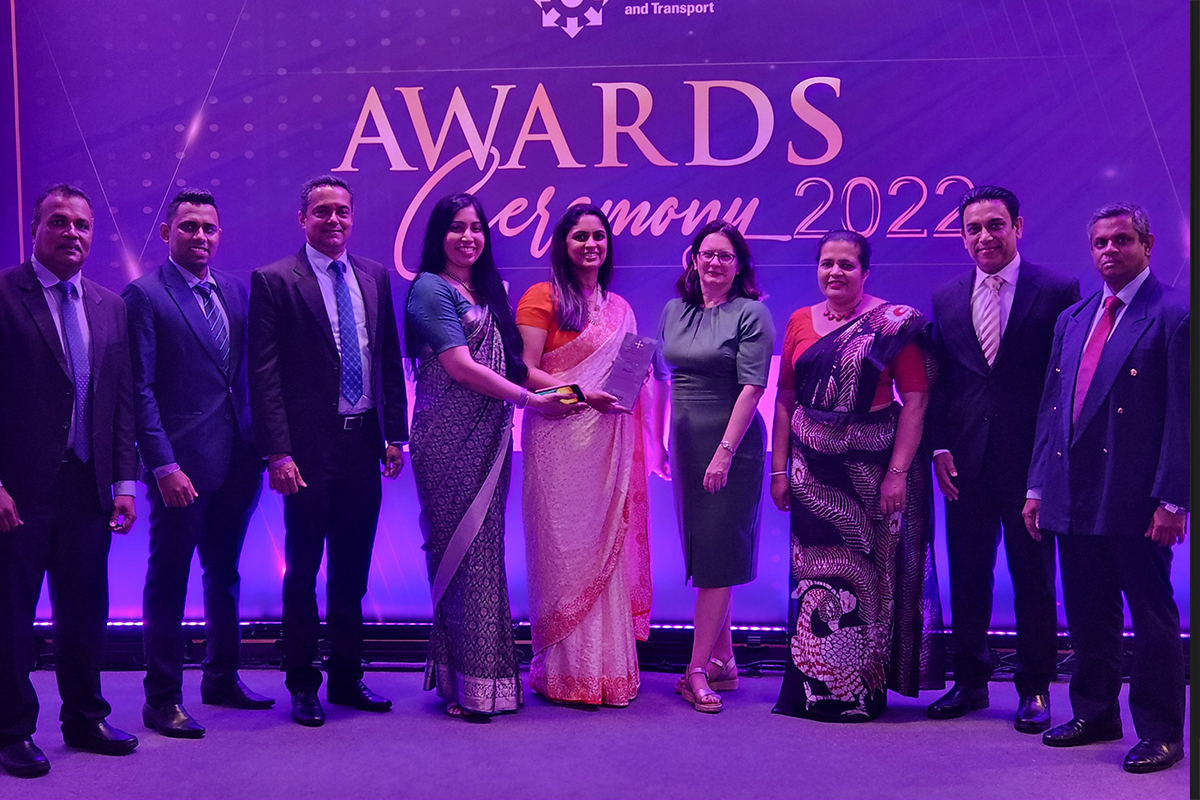 Aitken Spence Freight Sector at CILT Awards Ceremony 2022 with Chief Guest Ms. Lisa Whanstall, Deputy British High Commissioner to Sri Lanka and Dr. Namali Sirisoma, President CILT Sri Lanka