Aitken Spence consistently ranked among the Top 10 Most Respected Entities in Sri Lanka
Inspired by the heritage and entrepreneurial journey for over 150 years, Aitken Spence shines among the top 10 of LMD's Most Respected entities hall of fame 2019. Being a conglomerate that has pioneered many successful ventures whilst delivering long term value to all stakeholders, Aitken Spence secured a total score of 299, surpassing many large corporates in Sri Lanka.

The 15th annual edition of the Most Respected entities ranked the nation's most admired corporations, adopted a revised methodology for ranking entities. LMD's Most Respected rankings are based on an exclusive survey conducted by a leading research company Nielsen to gauge peer perceptions through a weighted ranking system. The key criteria include financial performance, quality consciousness, management profile, honesty, innovation, dynamism, corporate culture, CSR, vision and nation-mindedness.

Commending the achievement Dr. Parakrama Dissanayake, Deputy Chairman and Managing Director of Aitken Spence PLC said, "With an impactful legacy of over 150 years not just in Sri Lanka but internationally as well, our priority has always been to be a sustainable and a responsible organisation that delivers long term value to employees, customers, partners, communities and other stakeholders. Moreover, our ability to adapt and to be agile yet strong and stable, guarantees our pledge to stakeholders that we create a positive impact for people and the environment that enriches us."

"The diversity of the Group's business sectors and its geographical span has been the corner stone of the Group's success throughout the years. Investments that were strategically thought out and passionately executed has not only propelled it to greater heights but has also enabled us to withstand the fluctuations of fortunes of the Sri Lankan and global economies. We are extremely pleased that our position among the Most Respected has improved in comparison to the previous years and this is a further testimony that we are moving forward despite the many challenges faced in both the local and global landscape," he further added.

Listed in the Colombo Stock Exchange since 1983 and marking its 150th year milestone in 2018, Aitken Spence is a blue-chip conglomerate with a strong regional presence in the Hotels, Travels, Maritime Services, Logistic Solutions, Plantations, Power Generation, Financial Outsourcing, Insurance, IT, Printing and Apparel sectors. The Company is empowered by a team of over 14,000 individuals, with a geographical presence in 8 countries and growing, creating opportunities for Sri Lanka across new frontiers.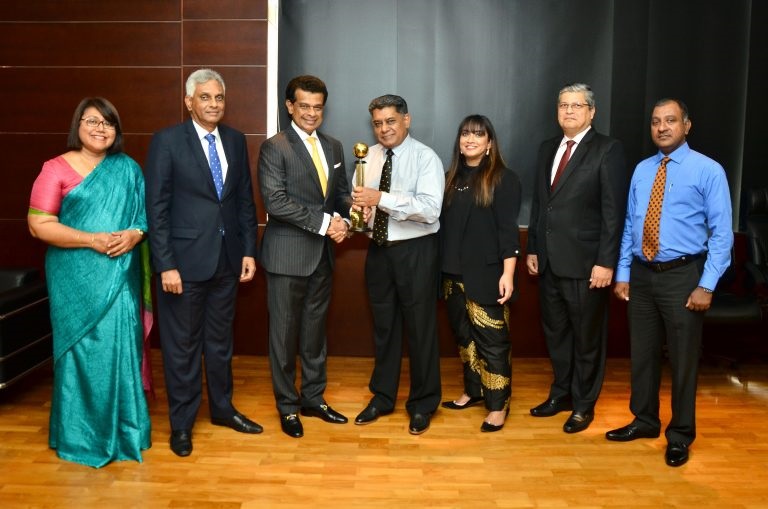 The award for Sri Lanka's Most Respected entity for 2019 is presented to Aitken Spence. From left to right: Ms. Nilanthi Sivapragasam (Chief Financial Officer – Aitken Spence), Dr. Rohan Fernando (Executive Director - Aitken Spence), Dr. Parakrama Dissanayake (Deputy Chairman & Managing Director - Aitken Spence), Mr. Hiran Hewavisenti (Editor-in-Chief - LMD), Ms. Stasshani Jayawardena (Executive Director - Aitken Spence and Head of Tourism & Leisure), Mr. Rohan Pandithakorralage (Chief Human Resources Officer - Aitken Spence) and Mr. Brian Emmanuel (Marketing Director - LMD).