Aitken Spence makes significant investment in solar energy
Aitken Spence PLC reiterates their commitment to local and global sustainable development goals by acquiring Sagasolar Power (Private) Ltd, from the major shareholder LOLC Group for Rs. 1.4 billion. Moreover, it is in line with Sri Lanka's power and energy strategy to increase power generation from the renewable energy sector. This investment from Aitken Spence expands their portfolio in renewable energy in the pursuit of enabling access to clean energy and contributing positively towards rising energy demands and lowering our national carbon footprint.
The Solar project contributes 10MW to the national grid and is expected to generate approximately 18 million kWh annually. This is the country's first utility scale solar farm that extends to over 45 acres of leased land. The project was first commissioned in October 2016. The solar farm is located in Buruthakanda, Hambantota which has the highest recorded solar irradiation level in Sri Lanka.
"Amidst dire circumstances, this is yet another bold move and significant investment made by Aitken Spence, that shows our commitment to expand the sustainable power generation portfolio with renewable energy projects. Solar power has the potential to play a key role in the renewable energy segment in Sri Lanka and this initiative strengthens the country's efforts to move towards cleaner energy sources and productive management of sustainable and affordable energy generation." commented Dr. Parakrama Dissanayake, Deputy Chairman and Managing Director of Aitken Spence PLC.
"This is our first major project in solar power generation, and our stringent management frameworks will extend to the newly acquired solar energy power plant to meet all necessary compliance requirements," added Mr. Leel Wickremarachchi, Managing Director of the power segment of Aitken Spence.
In addition to solar power, the company's renewable energy portfolio includes waste to energy, hydro power and wind power. In 2021, the company launched Sri Lanka's first municipal solid waste to energy power plant and acquired three mini hydro power plants.
Aitken Spence is also the first conglomerate from Sri Lanka to commit to the Science Based Targets initiative, a partnership between CDP, the United Nations Global Compact, World Resources Institute (WRI) and the World Wide Fund for Nature (WWF), which drives ambitious climate action in the private sector by engaging with organisations to set science-based emissions reduction targets.
The Power segment of Aitken Spence is a leading player in the industry with a reputation for investing in pioneering technologies whilst diversifying into renewable energy and towards achieving net zero.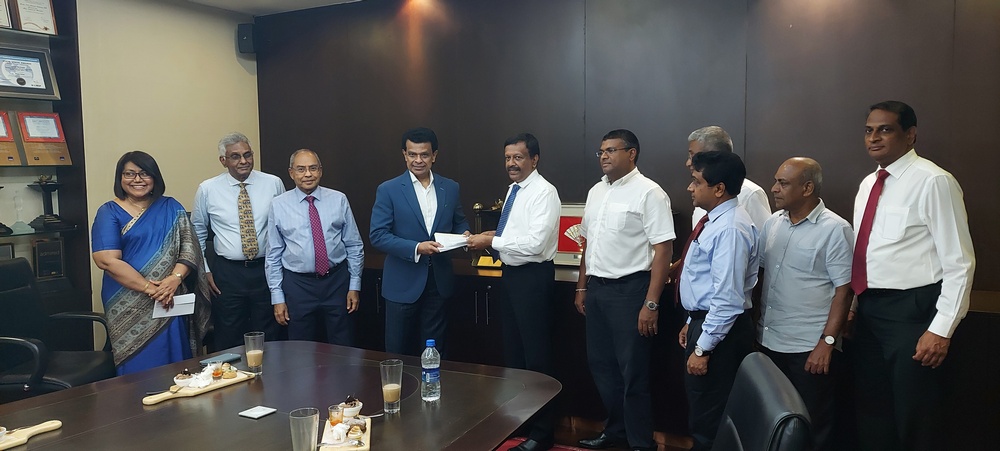 Dr. Parakrama Dissanayake - Deputy Chairman and Managing Director Aitken Spence PLC accepting the share transfer form from Mr. Kapila Jayawardena – Group Managing Director/ Chief Executive Officer of LOLC Group with other officials from Aitken Spence PLC, LOLC Group and respective former shareholder companies.