Aitken Spence's Logilink certified for Environmental Sustainability, Occupational Health & Safety
An Aitken Spence Logistics company, Logilink (Pvt) Ltd., became the first container freight station in Sri Lanka to be certified for both ISO 14001:2015 and ISO 45001:2018 management systems. The certifications were awarded for environmental management and occupational health & safety respectively by SGS Lanka (Pvt) Ltd., covering the export cargo consolidation operations at its fully-fledged container freight station at 309/4A, Negombo Road, Welisara.
Logilink (Pvt) Ltd. offers export cargo consolidation services to a prestigious clientele consisting of several top international clothing brands.
ISO 14001:2015 specifies benchmarks to establish environmental impact controls whereas ISO 45001:2018 specifies standards for occupational health and safety (OHS). These management systems guide operations to map and monitor their environmental performance as well as OHS risks to all key stakeholders, thereby enabling proactive mechanisms to protect the environment and their key stakeholders.
"As the pioneer container freight station operator in the country, our teams are mindful of their responsibilities to set a precedent in providing sustainable services. It is through their efforts that we were able to set an industry benchmark by receiving both ISO 14001:2015 and ISO 45001:2018 certifications for our Logilink facility. Both certifications reflect our commitments towards environmental sustainability and the health & safety of our staff and partners. This will undoubtedly help us serve our customers better and meet the needs of our international clientele", commented Mr. Janaka Gunawardena – Chief Operating Officer of Aitken Spence Logistics.
Aitken Spence Logistics is one of the leading integrated logistics service providers in the country. The company operates container freight stations, inland container terminals, container repair & rigging facilities and provides with transportation & distribution, warehousing & third-party logistics management and project cargo logistics solutions precisely meeting the logistics requirements of a diverse pool of customers, both locally and internationally.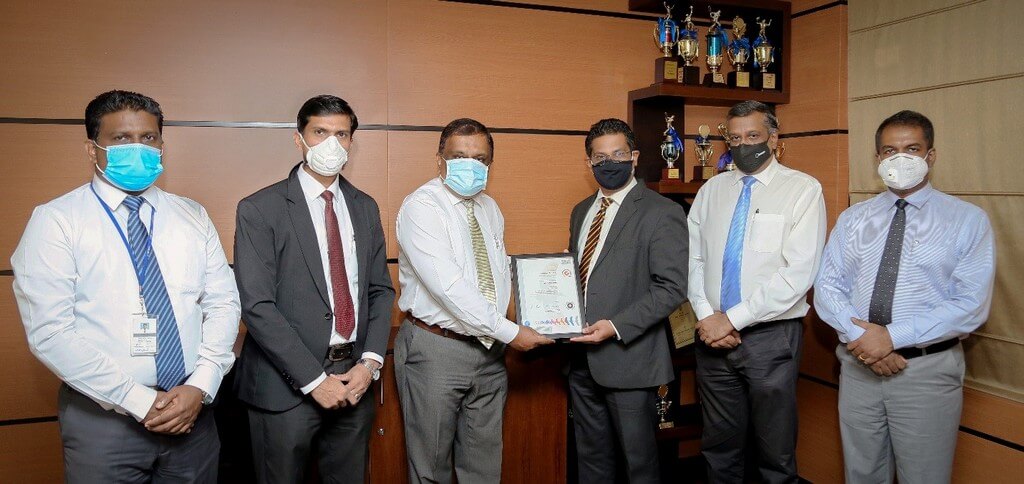 Mr. Janaka Gunawardena - Chief Operating Officer / Vice President of Aitken Spence Logistics receiving the certificates from Mr. Chamika Wimalasiri – Business Manager of SGS Lanka (Pvt) Ltd. Others present: Mr. Dinesh Mendis – Director, Aitken Spence Group Ltd, Mr. Sharmilal Anthony, Vice President / Director of Aitken Spence Logistics, Mr. Asanka Silva – Manager CFS and Mr. Srilal Kahawewithana – Manger Non-Food, SGS Lanka (Pvt) Ltd.