Aitken Spence Travels continues to be Carbon Neutral
Aitken Spence Travels, Sri Lanka's largest inbound tour operator has achieved "Carbon Neutral" status for the financial year 2018/2019. The Company offset its carbon footprint by purchasing United Nations Certified Emission Reductions (CERs) through biomass-based power project. The carbon neutrality status has been achieved for organisational level operations within the boundary of Aitken Spence Travels (Pvt) Ltd, 4th floor, Tower 2, 315, Vauxhall Street, Colombo 2.
The organisational level greenhouse gas emission and removals were assessed in accordance with ISO 14064-1: 2006 & Intergovernmental Panel on Climate Change (IPCC) guidelines for National Greenhouse Gas Inventories and been verified by the National Cleaner Production Center in Sri Lanka. The Scope covered in the assessment includes company-owned vehicle fleet, employee commuting, employee business travels, fire extinguishers, water consumption, grid electricity and its transmission and distribution loss.
The journey of reducing its carbon footprint started six years ago when Aitken Spence Travels took measures to mitigate the impact it made on the environment. In 2012, the entire process was audited by the Sri Lanka Carbon Fund. Going forward, Aitken Spence Travels intends to offer carbon neutral tours as part of the larger sustainability initiative titled as the 'Travel Kindly' brand. This initiative is in place to promote responsible travel options.
Tourists visiting Sri Lanka through Aitken Spence Travels can choose to be a part of the Company's sustainability initiatives such as minimising carbon footprint when partaking in tours and excursions designed to have minimum impact on the environment. Moreover, Aitken Spence Travels promotes nature-based excursions, and educates tourists on best practices to follow and to influence responsible tourism practices in the industry. The destination management operation also promotes less visited national parks in Sri Lanka to reduce congestion in popular national parks that tends to impose a strain on the wildlife of these locations. The dedicated team of Aitken Spence Travels is empowered with insights to responsible tourism through employee engagement campaigns and educational discussion forums with industry experts.
"Our carbon neutral status affirms Aitken Spence Travels' commitment towards environmental protection and promoting eco-friendly business and production practices. This wouldn't have been possible without the support from the top management and dedicated staff members which have collectively been the success factors in achieving the carbon neutral status. commented Mr. Nalin Jayasundera, Managing Director of Aitken Spence Travels.
"We actively promote sustainable tourism practices as we understand our impact to the community and environment when carrying out our operations. Aitken Spence Travels takes proactive steps in creating a demand for environment conscious tourists while ensuring its tourism practices are sustainable", he added.
Aitken Spence Travels obtained the Travelife Partnership Certification for the operations keeping in line with global sustainable tourism practices and has a longstanding partnership with TUI, the world's largest integrated tourism company. Aitken Spence Travels won the Best Inbound Tour Operator award under the category of Travel & Tourism Operator – Large, at the National Tourism Awards 2018 conducted by The Sri Lanka Tourism Development Authority. The first destination management company to obtain ISO 9001:2008 was none other than Aitken Spence Travels. Furthermore, the Company's operations are ISO 14001:2015 certified for their efforts towards environmental impact control.
Aitken Spence Travels affirmed its market leadership position by facilitating over 200,000 visitors to Sri Lanka in the financial year 2018/19. The Group's destination management arm, handles inbound and outbound tour packages for groups, FIT and the MICE segments which operates in a highly competitive business environment.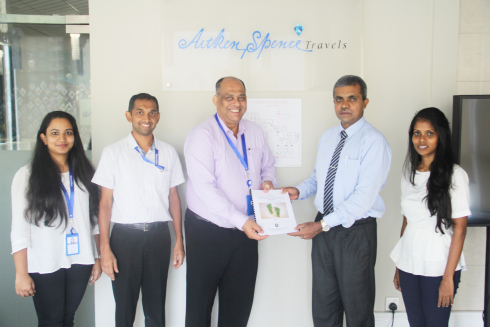 Officials of Aitken Spence Travels and National Cleaner Production Center (NCPC) at the presentation exchange of the Endorsement of Greenhouse gas inventory of Aitken Spence Travels.
Left to right - Rumalka Amanthi, Junior Executive, Aitken Spence Travels, Upul Kumara, Assistant Manager, Aitken Spence Travels, Tikiri Ellepola, Chief Operating Officer, Aitken Spence Travels, Samantha Kumarasena, Chief Executive Officer, National Cleaner Production Center Sri Lanka and Harshini Rananjali, RECP-technologist, National Cleaner Production Center Sri Lanka