Elpitiya Plantations among the Top 10 Best Corporate Citizens at the Best Corporate Citizen Sustainability Awards 2022
Elpitiya Plantations PLC (EPP), the leading plantation company in Sri Lanka, for the first time was recognized among the Ten Best Corporate Citizens award and competing among other larger corporate giants. Competing among other larger corporate giants, the company secured o5 awards at the Best Corporate Citizen Sustainability Award 2022. Its leadership and commitment towards sustainability, good governance, and corporate excellence have paved their journey to receive these multiple awards.
The other awards include – Winner Triple bottom line award - Environment, 2nd Runner up sustainability award in Category B (below LKR 15 Bn) and 02 awards for Best sustainability project winners for Project- 'Living Green Soil' for the holistic approach toward environmental sustainability reducing GHG emission by reducing using of chemical fertilizers and agrochemicals and improving of soil carbon % with the application of organic compost. The other project award 'Ready to be Ready' on the social sustainability for the plantation community supporting their livelihoods during pandemic and current economic crisis ensuring their food security and facilitating to maintain good health condition.
Commenting on this achievement, Dr. Rohan Fernando – Managing Director of Elpitiya Plantations, said "We are extremely grateful to be recognized at this prestigious awarding platform as it emphasizes our conscious efforts in sustainability. We are committed to reach higher benchmarks in our sustainability journey and this is only just the beginning". Mr. Bhathiya Bulumulla – Director/ CEO of Elpitiya Plantations PLC also commented, "Elpitiya Plantations has been continually adapting and improving sustainable business practices in our daily operations where all aspects of environmental health, economic sustainability and social responsibility are given equal importance".
Sustainability has been a core element of the company's business strategy and even during the recent challenging pandemic and economic environment, EPP has shown its resilience recording its highest-ever profit in the company's history. Furthermore, EPP celebrated their silver jubilee in 2022 and theses awards marks another milestone in the company's sustainability journey.
These accolades are a further testimony to the company's sustainable journey making it one of the most sustainable plantation companies in Sri Lanka with its holistic sustainable strategy. This focuses on achievement of six long term environmental, social, and economic aspirations that are aligned with the UN Sustainable Development Goals namely SDG-06- Clean water and sanitation, SDG-07 Renewable energy generation and consumption, SDG-08- Economic growth and Youth empowerment, SDG-09- Industry Innovation and Infrastructure development, SDG-15- Life on land andSDG-17 Partnership for Goals.
EPP has invested in emission controls specially with their efforts in renewable energy generation with hydro and solar recording over 141% above their annual electricity consumption, sourcing sustainable thermal energy with biomass by planting bamboo to be self-sufficient in thermal energy demand and incorporating organic compost over 04 million kgs annually to improve soil organic matter while systematically bring down chemical fertilizer which is the highest GHG emitter in the industry and the carbon footprint.
Also, EPP is researching on adopting mitigating climate impact of rainfall on their efforts in rainwater harvesting over 254 million liters annually to recharge the soil to retain the moisture during the dry periods.
The visionary leadership of the top management of EPP, guidance on sustainability strategy from the expert in the field Dr. Ravi Fernando and well executed by the sustainability team has made EPP a trailblazer in the plantation industry with the continuing wining trend.
EPP also recorded its highest profits in the last season and celebrated 25th anniversary in this year while improving the living standard of its community, employees and all stakeholders.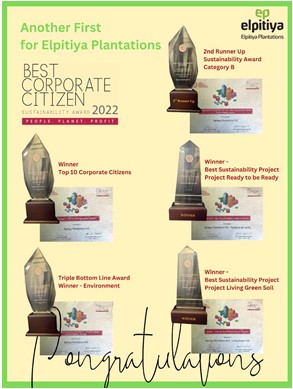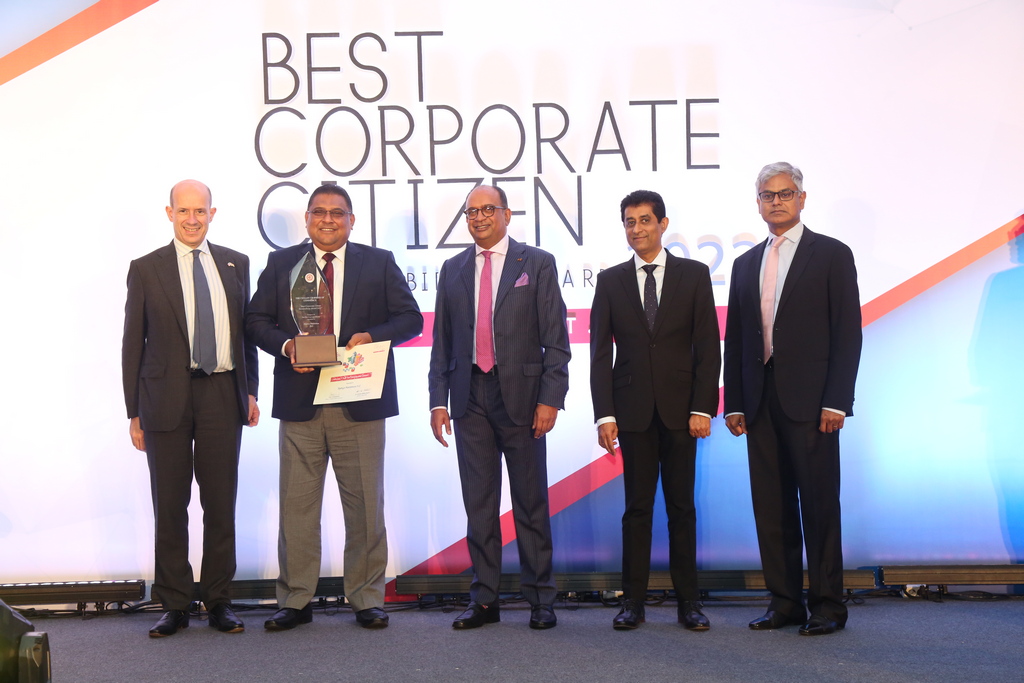 Elpitiya Plantations PLC awarded with Top 10 best corporate citizen award-2022
Elpitiya Plantations team with their awards