Hapag Lloyd Lanka consistently recognized for exceptional Customer Service
Hapag-Lloyd Lanka, a subsidiary of Aitken Spence PLC and the local representation for Hapag-Lloyd-AG- Hamburg won two Customer Service Awards for the Europe Trade, for the third consecutive year and Mediterranean Trade, for the second consecutive year at the recently held award ceremony by the Institute of Chartered Shipbrokers (UK) - Sri Lanka Branch.
The Institute of Chartered Shipbrokers (ICS) (UK) founded in 1911 and received the 'Royal Charter' in the year 1920; is fundamentally dedicated in promoting professionalism in the international maritime industry. It's worldwide acceptance affirms the 'Institute' as the only professional body that sets the highest standards of professional service to the shipping industry world over.
The Institute of Chartered Shipbrokers (ICS) Sri Lanka Branch commenced in awarding 'Customer Service Awards' at their Annual ICS Awards Ceremony in the year 1997 under the leadership of Dr. Parakrama Dissanayake the Former Chairman of the ICS Sri Lanka Branch, who later on became the first non-Britisher to be elected as the International President of the Institute, in the year 2017-2019
Receiving multiple awards from reputed industry and professional bodies in regular intervals over the last three years emphasises the commitment alongside the successful quality-centric and customer-focused initiatives taken by Hapag-Lloyd Lanka.These initiatives are further supported by Hapag-Lloyd strategy 2023 that focuses on quality, digitalization, and differentiations including customer interaction.
"From it's inception, the ICS customer service awards are accepted by the major industry players as an important tool to establish the much-needed customer service benchmarks in Sri Lanka. Receiving many awards from ICS, which is one of the most reputed professional bodies in Sri Lanka and from some other industry bodies that represent our customers, is a clear indication of the strength of Hapag-Lloyd Lanka to provide exceptional service to it's customers. As a service organization, we have upskilled our talent and in turn has been successful to improve customer satisfaction levels. We believe this investment to further develop the capacity levels, domain knowledge, and the leadership and managerial qualities of our people amidst the extremely volatile macro-economic situation in the country will raise the benchmark in the industry" commented, Hapag-Lloyd Lanka Director/ Vice President Mr. Lalith Witanachchi.
"During the last three years, we closely analysed the feedback of our valued customers, and we were able to introduce some radical process, system, and structural changes to enhance the customer service levels. We foster a learning and an innovative culture and we have formed cross-functional teams and encouraged even our junior-level team members who directly deal with our customers to give their suggestions to change our processes, systems, and structures. We are seeing the positive outcomes of these initiatives" said Hapag-Lloyd Lanka General Manager Dr. Geeth Kumarasinghe.
Hapag-Lloyd-AG is one of the world's leading container shipping lines based in Hamburg, Germany and is ranked the 5th Largest Liner Shipping company in the world, operating one of the largest shipping container fleet and toady ranks among the top 4 main line carriers to the Port of Colombo. Hapag-Lloyd currently operates services to Colombo on a weekly and regular basis, using Colombo Port as a transshipment hub in the region.
Hapag-Lloyd Lanka is a joint venture between Aitken Spence Maritime and Hapag-Lloyd-AG. Aitken Spence Maritime is a pioneer in the industry and was the first in Sri Lanka to undertake port efficiency enhancement management overseas with its entry into the African continent and subsequently South Pacific Islands. The company handles all areas of maritime services from ship agents and cargo handlers to liner agency, cruise vessels, port management and development, chartering services and maritime education.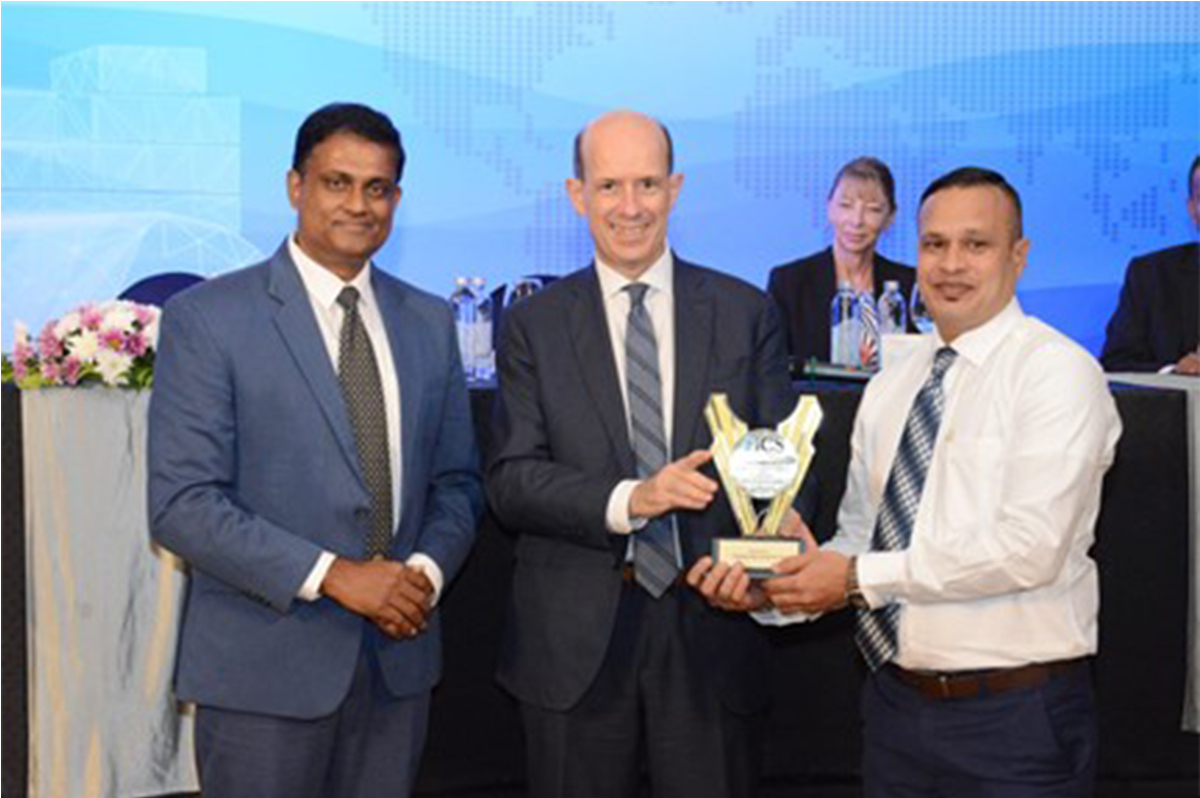 Mr. Kirk Baldsing, Assistant General Manager (Europe and Mediterranean Sector) receiving the best customer service provider award from Mr. Jean-Francois Pactet,
H.E Ambassador of France in Sri Lanka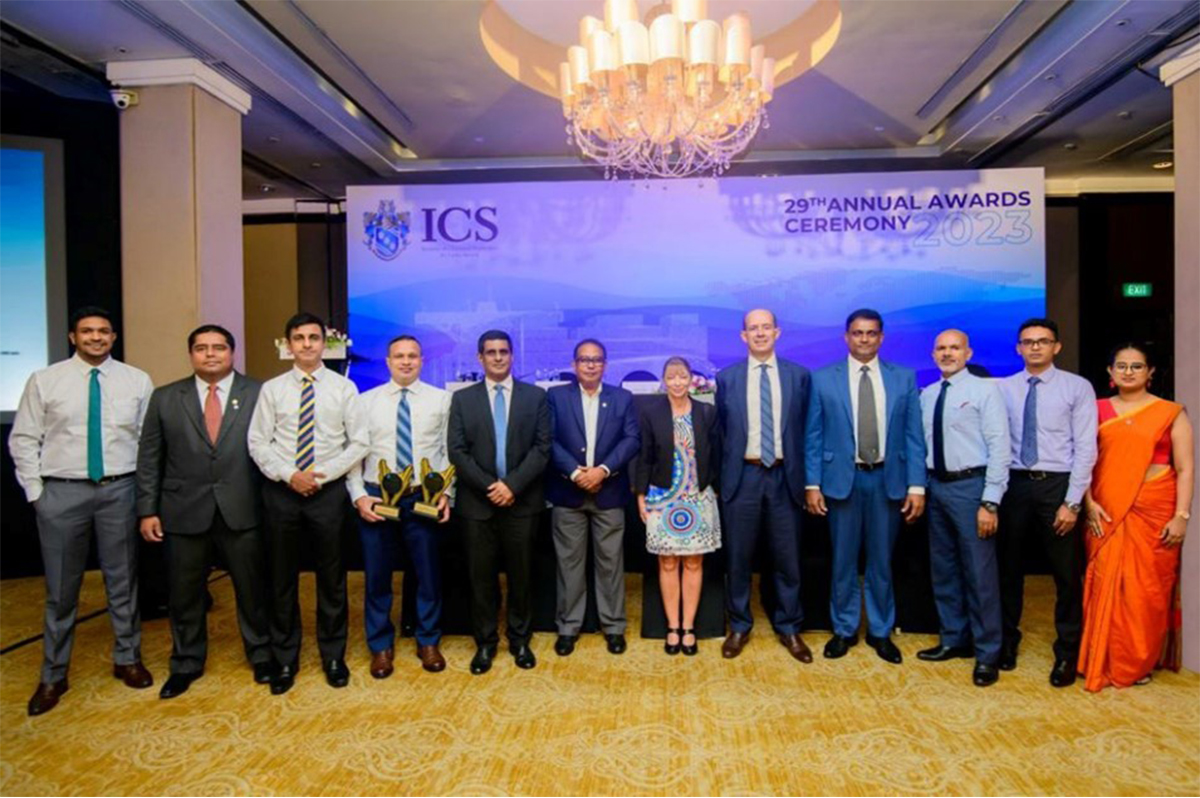 Mr. Jean-Francois Pactet, H.E Ambassador of France in Sri Lanka, Mr. Keith Bernard, Chairman of SriLanka Ports Authority, Ms. Alison Hiscox, Principal of University of Technology Sydney (UTS) College- SriLanka, Mr. Kingsley Abeywickrama, Chairman – ICS (UK) Sri Lanka Branch, Mr. Lalith Witanachchi, Director/ Vice President
-Hapag-Lloyd Lanka (Pvt) Ltd, Dr. Geeth Kumarasinghe, General Manager -Hapag-Lloyd Lanka (Pvt) Ltd, with the Marketing and Customer Service team members.