Hapag-Lloyd Lanka Yet Again Awarded for Excellence in Performance and Customer Service at CILT- Sri Lanka Ceremony
Hapag-Lloyd Lanka, subsidiary of Aitken Spence PLC and local representative for Hapag-Lloyd-AG was awarded as the winner under the "Market Segment" category and 2nd runner up under the "Continuous Improvement" category in recognition of their performance at the at the CILT- Sri Lanka awards. The awards ceremony was held on 15th June 2023 under the patronage of the Deputy High Commissioner of Great Britain to Sri Lanka, Ms. Lisa Whanstall.
The CILT- Sri Lanka was established in 1985 and at present has over 2000 members. CILT intends to promote, uplift, and motivate best practices, extraordinary deliverables, and initiatives among the industry players by launching this flagship event annually.
The winners were selected by an eminent panel of judges headed by Dr. Travis Perera.
With the "Continuous Improvement" award, CILT aims to recognise excellence in best management practices and the implementation of strategies and initiatives that drive ongoing enhancement. Efficiency in operations, processes, and strategies, dedication to technology utilisation and automation, and exceptional strategic development are key criteria for selecting winners in this category.
With the "Market Segment" award, CILT intends to acknowledge organisations that set the standard in delivering exceptional customer experiences through multiple channels. The organisational projects which help to exceed customer expectations, implementation of industry leading standards of service and innovative customer experience capabilities are among the major criteria for the selection of winners under this category.
Hapag-Lloyd Lanka is the 1st liner agency company in Sri Lanka to receive both ISO 9001:2015 and ISO 14001:2015. These dual certifications demonstrate the company's commitment to uphold international benchmarks in quality and environmental standards. As a shipping line agency, Hapag-Lloyd Lanka has received many prestigious accolades, including being recognised as the Best Customer Service Provider for two major trade lanes by the Institute of Chartered Shipbrokers (UK) Sri Lanka for the past three years and winning the Gold Award in the Main Liner Operator category at the National Logistics Awards in 2022. Building on this success, the management of Hapag-Lloyd Lanka has implemented a comprehensive training and development program to cultivate a capable second tier of leadership and maintain their exceptional performance.
"The recognition received from three of the most reputed industry bodies within a short period of time is a reflection of the strength of Hapag-Lloyd Lanka to provide an incomparable service to our customers. As the Management we have taken all the steps to further enhance our customer service level by providing a global experience to our local customers and to sustain our achievements by developing a capable, knowledgeable, and dedicated young second tier of leadership" commented Hapag-Lloyd Lanka Director / Vice President Mr. Lalith Witanachchi.
"As an organisation, we were able to establish a learning culture and we can proudly say that we have an energetic team which is keen to search for new avenues to provide novel experiences to our customers by integrating modern technological advancements including Robotic Process Automation (RPA) & Business Process re-engineering" said Hapag-Lloyd Lanka General Manager Dr. Geeth Kumarasinghe.
Hapag-Lloyd-AG is one of the world's leading container shipping lines based in Hamburg, Germany, and is ranked the 5th largest liner shipping company in the world. Operating one of the largest shipping container fleets, Hapag-Lloyd today ranks among the top 4 mainline carriers to the Port of Colombo. Hapag-Lloyd currently operates services to Colombo on a weekly and regular basis, using Colombo Port as a transshipment hub in the region.
Hapag-Lloyd Lanka is a joint venture between Aitken Spence Maritime and Hapag-Lloyd-AG. Aitken Spence Maritime is a pioneer in the industry and was the first in Sri Lanka to undertake port efficiency enhancement management overseas with its entry into the African continent and subsequently South Pacific Islands. The company handles all areas of maritime services from ship agents and cargo handlers to liner agency, cruise vessels, port management and development, chartering services and maritime education.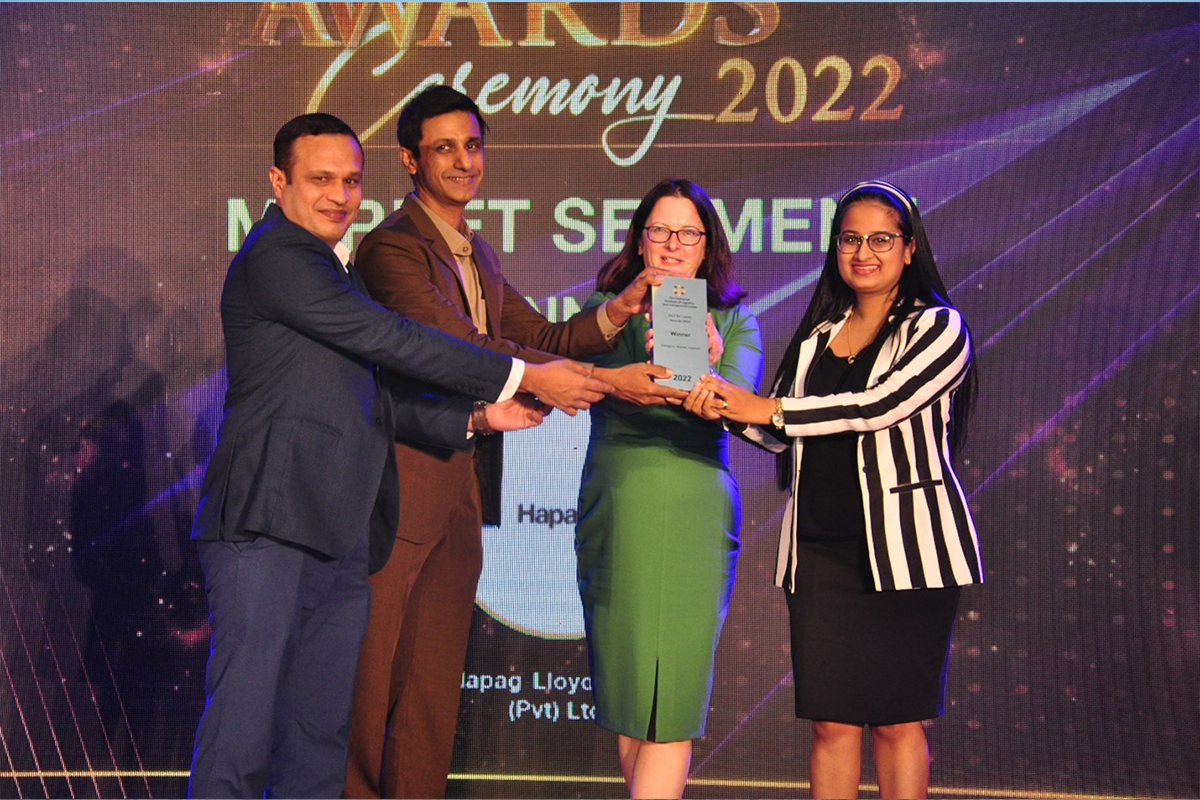 Dr. Geeth Kumarasinghe, General Manager receiving the Winner of the "Market Segment" award from the Deputy High Commissioner of Great Britain to Sri Lanka, Ms. Lisa Whanstall.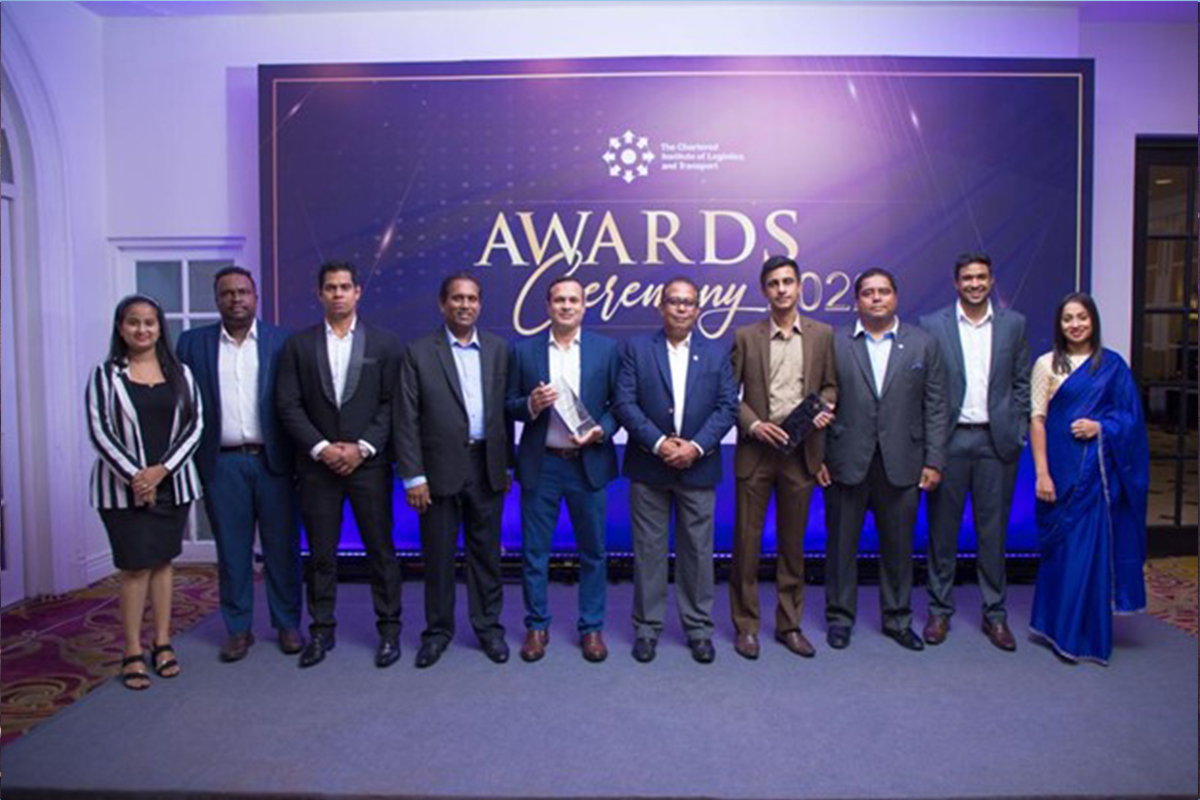 Hapag-Lloyd Lanka Customer Service & Management Team; Kanchana Bopitiya, Raveen Lakmal, Nimal Wijesiri, Priyanga Wijeyeweere, Kirk Baldsing, Mr. Lalith Witanachchi- (Director / Vice President), Dr. Geeth Kumarasinghe (General Manager), Mindaka Dassanayake, Shane De Alwis, Darshani Wijesundara
(From left to right)